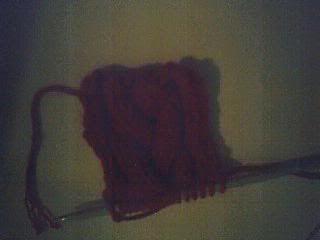 Sorry for the crappy picture quality. It's night time here and the energy saving light bulb is not conductive to taking pics with web cams.
Just thought I'd do a knitting update. This diddy bit of cable is a start of a scarf for Billy. It's actually the cable pattern from Coronet on Knitty.com. Depending on how bored I get i'll knit this fortop and bottom and then stripe 6/6 cables for the mainbulkof the scarf or use this as the stripes. I'm enjoying cabling...nice challenge.
Been trying to knit Clapotisin this nice yarn, but struggling with pattern, so started on this instead. Also have a beige stripy scarf that's too wide and twoshort that i'm going to 'Steek'. Thought if I machined to rectangles onto the scarf, then cut between them and sewed them together it might get to the right length.
Had an early b-day pressie today too from Vicki. A set of 6mm, 40cm circs, and a set of 2.75mm, 80cm circs...so circular knitting here I come. I think my first project on those will be a baby blue shrug for Miss B using the end of the baby yarn. She's always cold bless her!
Does making pompoms count as a knittiny activity? Well I suppose it's fiber! I made two big white fluffy poms for Amey's shoes for tomorrow. She's coming as Tinkerbell to my come as your favourite fictional character 18th b-day party...:->