Last night was.
We went to the Bristol Hippodrome to see the stage musical version of P.L. Travers 'Mary Poppins'
Based more on the books thank goodness than the Disney film and with some new songs it was really wonderful. The sets were beautifully crafted, moving about the stage amazingly, with the attic flying down from the top of the house to the stage as the back drop changed to sky. During the 'Step in Time' number the chimneys and rooftops moved across the stage as Bert Mary Jane and Michael danced with the sweeps jumping from chimney to chimney. 'Over the roof tops - Step in time' saw Bert dancing up the procenium arch upside down on the top and over the other side of the arch on an amazing moving plank whilst he was on wires. It must have looked very scary to the people up in the Gods.
Mary left the final time by flying over the audience up into the upper circle with her umbrella, and even though you caould see the wires you still couldn't quite believe it.
The choreography throughout was fantatic mainly due to it being co - made by Matthew Bourne he of Swan Lake with men in fluffy trousered fame. 'Supercalifragilisticexpialidocious' was done beautifully with the orginal Mrs. Corry from the books and her shop with the letters and backchat for sale even though she was all out of converstion, and sentences. I enjoyed the way they made it everso slightly creepy, as the books are, as Michael says, we're going to have to watch her she's tricksy/tricky. Which is true - she is. If I didn't know I'd say a witch. She flew up the stairs without walking whilst she was getting rid of the bad nanny.
It makes me want to make a Mary Poppins coat. Tightwaisted, 3 buttons singlebreasted, flared skirt.. mmm mm mm!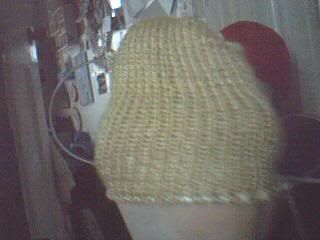 Look a toe pad for a pointe shoe!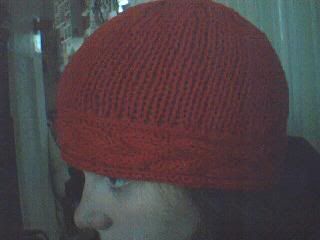 and my version of knitty's 'coronet' for Jon's present